With modubooq™ you can easily save your handwritten notes to your cloud drive (Dropbox, Google Drive, One Drive, etc/) by using one of the many scanner apps available. In this blog we explain the basic functionalities and possibilities that a scanner app can offer. And to save you some time we also tested the best ones out there. Because there is no one size fits all we have selected and compared our top 3 choices: Genius Scan, Adobe Scan and CamScanner.
Why digitizing notes with a scanner app
Digitizing notes can be very useful. When your notebook is full and want to erase the pages, it is nice if you can easily store them somewhere to look back at later. It is also ideal to have all your notes in one place instead of having several notebooks and papers laying around.
In addition to this, you can take it a step further: Erasing pages immediately when you don't need them anymore. See it as a way of 'decluttering'. The cleaner your notebook, the calmer your mind. Read more about this in our in depth blog about modubooq™ . This also makes the combination of a reusable notebook and a scan app the perfect sustainable solution for organizing and archiving your notes.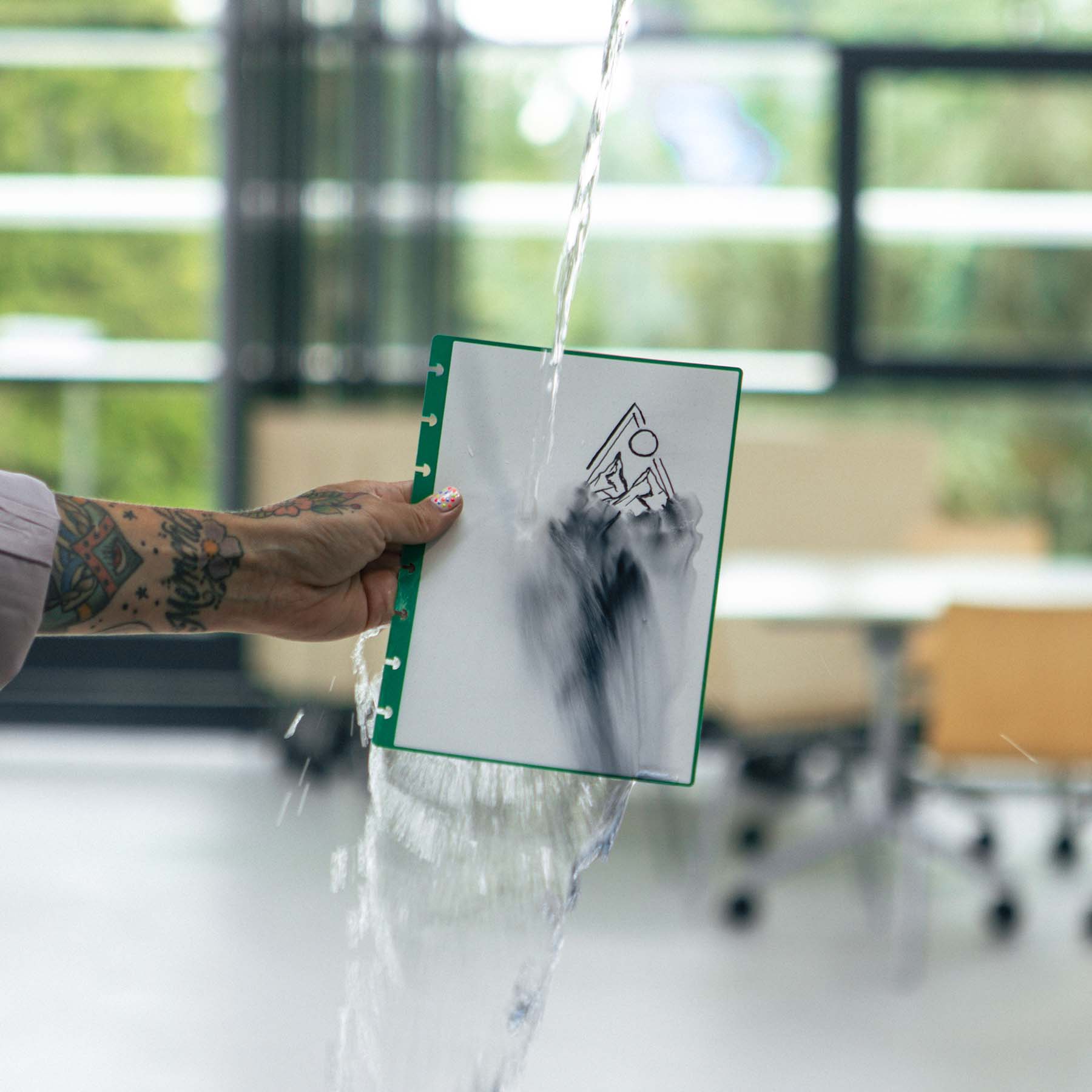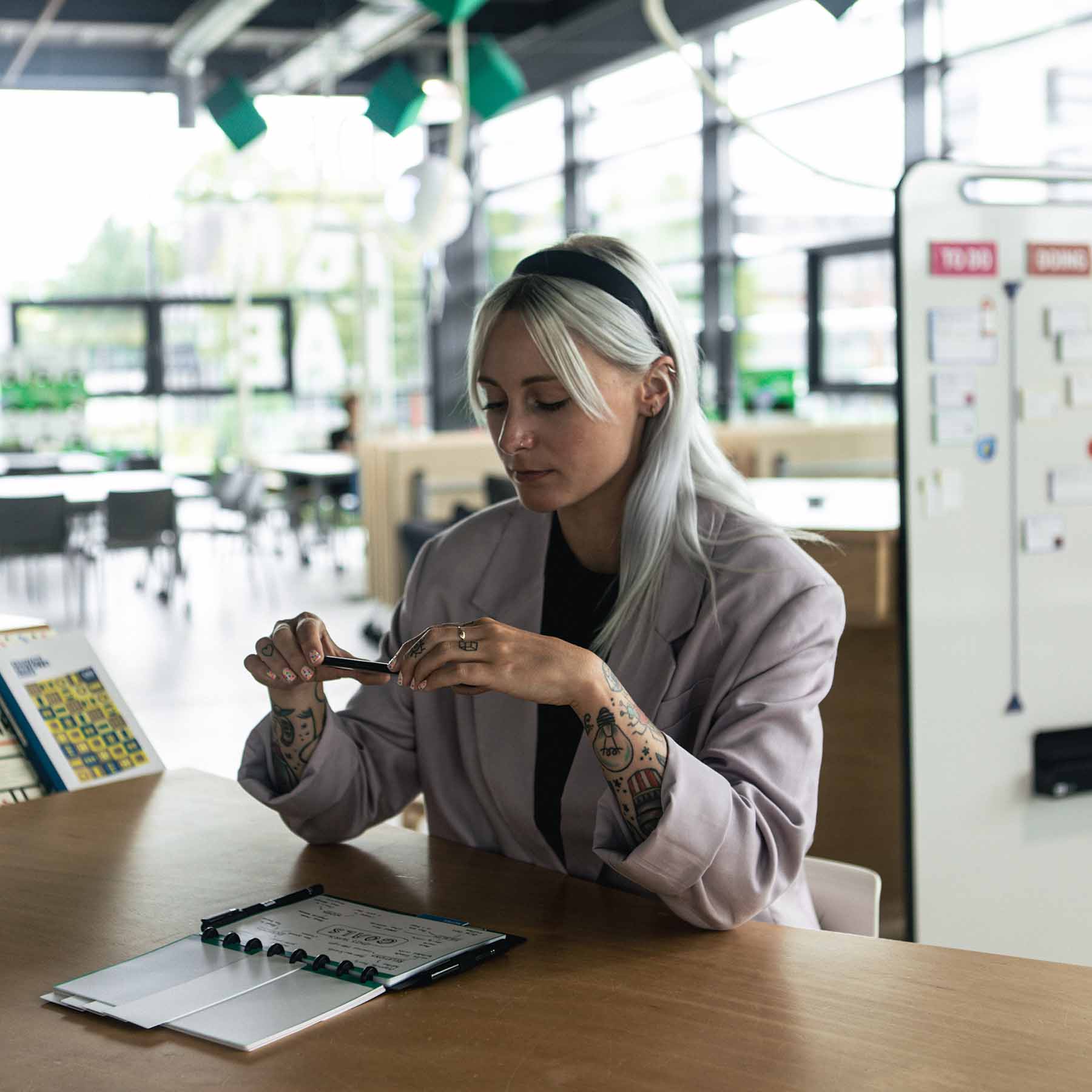 Features and possibilities of a scanner app
What a scanner app does is take a picture of your notes, recognizing the 'borders' of the writing space and whitening the background. Literally like you made a scan with your scanning machine. That is why the pages in modubooq™ have a colorful border: so the apps can recognize the writing space.
Most apps added all kinds of functions to it like adding signatures to documents digitally and cloud sharing. We focussed our comparison on the functions that are most useful for a notebook. But you could also use a scan app for signing documents or scanning loose papers. You can even scan an entire whiteboard!
Our top 3 best scanner apps:
In addition to comparing the prices and features, we also looked at the company background of each app. Knowing what the company behind the app is about can help you make an informed decision.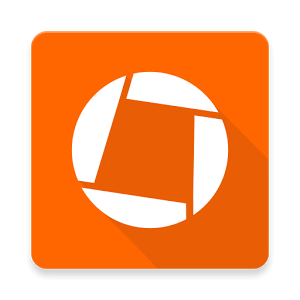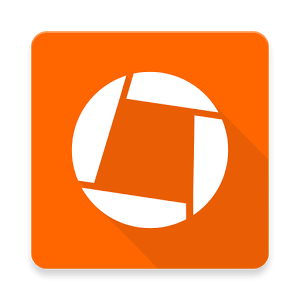 1. Genius Scan:
is made by the Grizzly Labs. A small and independent French company that specializes in mobile document scanning. Every time you buy one of their products, a share of the revenues goes towards protecting the environment.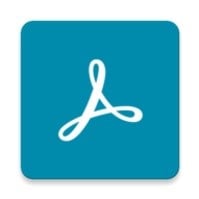 2. Adobe Scan:
is made by Adobe. A large US company that designs leading software to create, deliver and optimize content and applications. They support several environmental and ethical projects.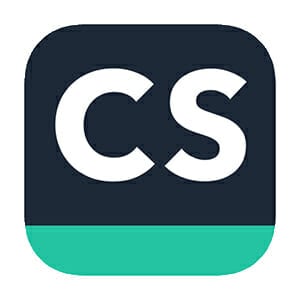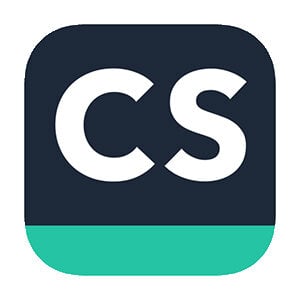 3. CamScanner:
is made by a Chinese company that we know little about. Back in the days, malware was discovered on the Play Store app, but this damaging code has been removed from the app since it was found (source). Keep in mind that harmful (not private) code can still exist in extensions and other versions of the app.
Prices and features compared
Below you will find a comparison of the features that we feel are most useful for using a notebook. The biggest challenge for scanner apps seemed to be converting written notes into digital text. We found no app that masters this to a point where you don't need to edit the text afterwards.
Feature
Genius Scan

Payment

Free version
Plus

Genius+ adds in the footer. No adds from other companies.

Single payment
Android
Apple
$4,99
$7,99
Unique features
– Filters away colored edges automatically.
– Simple and calm design.
– Fast and intuitive navigation and scanning.
Scan multiple pages in one go. So without having to go to multiple actions to take the next picture.
Yes
Organize pages
Organizes with "tags" instead of folders. Also group pages into different notebooks and relocate.
Writing to digital text
No
Yes, it can make 'normal looking' words but not to the point that it is functional.
Upload formats
PDF
Export to
Manual app selection: All apps that support the upload formats.
Direct button to AirPrint, Box, Dropbox, Evernote, Expensify, FTP, Google Drive, iCloud Drive, OneDrive, OneNote, WebDAV
App included cloud service
No
Yes, but an additional 2,99 per month.
 
Source: https://thegrizzlylabs.com/
Adobe scan

Payment

Free version
Premium

No adds

Monthly subscription, $10,99
 
 
Organize pages
No, also no combining pages.
Yes, make folders and combine PDF's.
Writing to digital text
No
Yes, but terrible, can't even make a normal looking word.
Upload formats
PDF, JPEG
PDF, JPEG, Word, Excel, Powerpoint.
Export to
Manual app selection: All apps that support the upload formats.
App included cloud service
Yes
Unique features
A premium subscription comes with a premium subscription of adobe Acrobat Reader too and works seamlessly together and functions as your cloud.
Scan multiple pages in one go. So without having to go to multiple actions to take the next picture.

Yes

 

Source: Adobe.com
Feature
Cam Scanner

Payment

Freemium
Premium

Recurrent adds of other products in full screen that you have to click away. Recurrent passive adds of other products in footer.

Monthly subscription

$4,99

Organize pages
No
Writing to digital text
Yes, but max 3 maps
Yes
Upload formats
Yes, the text is readable, but you need to edit typo's afterwards.
Export to
PDF and JPEG, but with watermark
PDF, JPEG, Word(20 times/month)
App included cloud service
Manual app selection: All apps that support the upload formats.
Unique features
Yes
Scan multiple pages in one go. So without having to go to multiple actions to take the next picture.
– The most extensive range of possibilities in the freemium version.
– The most popular scanner app on the market
– Has a subscription for business that costs 6,99 per month. Allows team folders sharing and management such as document access.
 
Source: https://www.camscanner.com/
Feature   

1. Genius Scan

2. Adobe scan

3. Cam Scanner

Payment

Free version
Plus
Free version
Premium
Freemium
Premium

Genius+ ads in the footer. No adds from other companies.

Single payment

No ads

Monthly subscription

Recurrent ads of other products in full screen that you have to click away. Recurrent passive adds of other products in footer.

Monthly subscription
Android
Apple

$10,99

$4,99

$4,99
$7,99
Unique features
– Filters away colored edges automatically.
– Simple and calm design.
– Fast and intuitive navigation and scanning.
A premium subscription comes with a premium subscription of adobe Acrobat Reader too and works seamlessly together and functions as your cloud.
– The most extensive range of possibilities in the freemium version.
– The most popular scanner app on the market
– Has a subscription for business that costs 6,99 per month. Allows team folders sharing and management such as document access.
Scan multiple pages in one go. So without having to go to multiple actions to take the next picture.
Yes
Yes
No
Organize pages
Organizes with "tags" instead of folders. Also group pages into different notebooks and relocate.
No, also no combining pages.
Yes, make folders and combine PDF's.
Yes, but max 3 maps
Yes
Writing to digital text
No
Yes, it can make 'normal looking' words but not to the point that it is functional.
No
Yes, but terrible, can't even make a normal looking word.
Yes, the text is readable, but you need to edit typo's afterwards.
Upload formats
PDF
PDF, JPEG
PDF, JPEG, Word, Excel, Powerpoint.
PDF and JPEG, but with watermark
PDF, JPEG, Word(20 times/month)
Export to
Manual app selection: All apps that support the upload formats.
Direct button to AirPrint, Box, Dropbox, Evernote, Expensify, FTP, Google Drive, iCloud Drive, OneDrive, OneNote, WebDAV
Manual app selection: All apps that support the upload formats.
Manual app selection: All apps that support the upload formats.
App included cloud service
No
Yes, but an additional 2,99 per month.
Yes
Yes
 
Source: thegrizzlylabs.com
Source: Adobe.com
Source: camscanner.com