In this blogpost we want to explain the difference between a digital and a physical scrum board. A digital board is great when the team works remotely, but a physical board will improve communication. So, what will it be? Which one will suit your team best? Let's find out!
Digital teamwork
In 2020 we got tested on our digital teamwork. Since the pandemic started, more and more people were forced to work from home. Meaning that the only communication with colleagues and/or business partners was digital.
Research shows that a lot of people like working from home and will continue to do so in the future, in combination with office days.
How did we do? Let's see some facts:
In April 2020 there were over 300 million DAILY Zoom calls, digital teamwork is very important;
Working together digitally reduces traffic jams and with that people being late at the office. This saves time and money for the company. Big cities in the US, such as Los Angeles, New York and Miami have dropped traffic congestion by 21%! European cities like Paris and Amsterdam also experienced less traffic.
Working remotely, also means working digitally. For scrum teams, this means working on a digital scrumboard. But what are the advantages?
Asynchronous communication, the team can leave comments and attachments super easy and quick
You will have the ability to capture metrics and generate reports automatically
For big teams: a digital board holds a lot of cards/ tickets
Text continues below picture.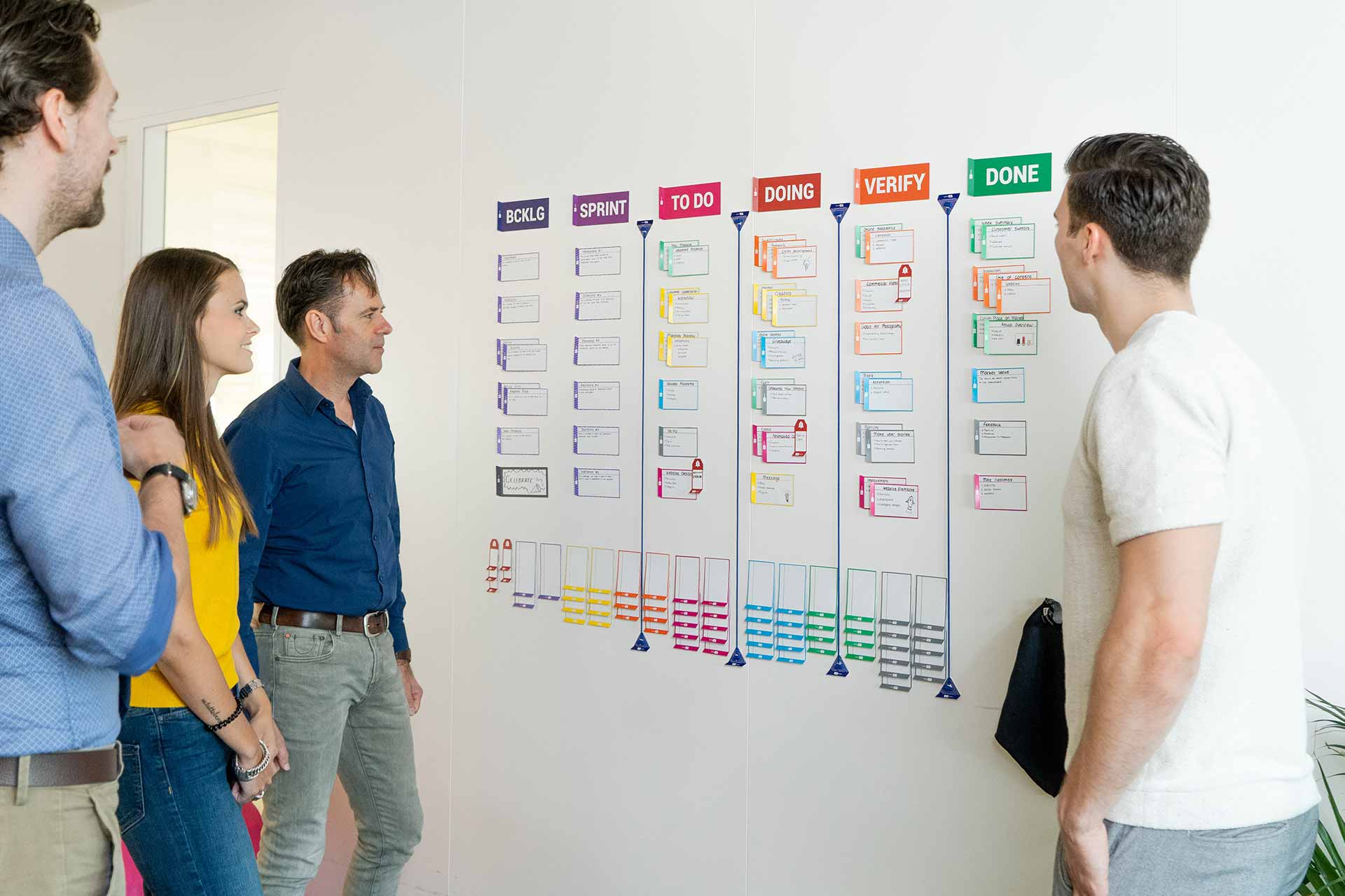 Boost productivity with physical meetings
Even though working remotely and having digital meetings was the new standard in 2020, working in a team (or with colleagues) has its own benefits. For example:
It provides a support network. In other words; together is better than alone. We can do individual tasks alone, but a whole project or company can't rely on just one person. Having colleagues around also helps with reducing stress.
According to Stanford, working together on a task will make the team feel more inspirational and they think it is more interesting and enjoyable.
Working physically results in more trust in your co-workers and/or partners.
Improved communication
A whiteboard with a physical scrumboard in the middle of an office space doesn't go unnoticed. Standing up from your desk to change something on the board invites your team member to take that moment and have a chat about the task or ask you a question. When everyone is stuck behind their computer, this will become an e-mail and this way the communication will get less and less.
The scrumboard at PATboard HQ
Our team uses a physical board as well. We use Task Cards in 6 colors and every color represents a different project or subject. This helps the team see what project needs the most work and there is a clear overview of the status.
When there are a lot of tasks in the 'To Do' row, we have to work a little harder. If there are a lot of tasks in the 'Done' row, we know we can take an extra break, or maybe even work on more tasks. Not only does this help us boost our productivity, but also the possibility to work more efficiently.
Identify the needs of your team
Even though we support and believe in working together physically, every team has its own needs. If you have a lot of team members and constant changes in your board, a digital board might work better for your team. The first step is always to identify the needs of your team and then choose the right method!
Are you starting with a new team and do you want to discuss the options between a digital and a physical board? We are here to help, get in touch with us!