We know that one size doesn't fit all. Not all teams work the same. Each individual brings his of her own share to the group and defines it. It doesn't come as a surprise that not all existing PATboard products will comply with the needs of each and every single agile team. With years of experiences in the fields of project management, including agile and lean frameworks, we understand working processes and by offering customized solutions we want to help you to bring your projects to the next level.
Whether you need branded dry erase magnetic cards, longer column dividers, personalized avatar team icons, a branded tool set or a new concept altogether for your physical agile scrum or kanban board, we can deliver. All sizes, shapes, colors and prints are possible.
At PATboard we design and produce all our products in-house and have the ability to create custom designs that suit your needs and ease your work. We are keen to share our enthusiasm with teams that can benefit from and expedite their work by using them.
Advantages of PATboard agile and lean tools
Don't you just hate it, scraping post-its off the floor and hoping you assigned the right task to the right person? So do we! That is why we have designed magnetic sticky notes that stick on the whiteboard at all times, don't curl, are reusable and durable.
They come with a fine magnetic strip at the back allowing to stack several cards adjacent to each other and group tasks on the planning board, creating an organized look of your workplace. Upon request, the magnetic strip can be repositioned according to the customer's wishes.
Being washable, you can use the magnets over and over again. Simply wipe them with a wet cloth or rinse them under running water.
The magnetic agile and lean tools from PATboard are intended for use on physical planning boards which, as a fact, promote team collaboration and motivate teams to gather, discuss and share their ideas. Physical project management boards make planning visual and communication tangible!
Examples of customized solutions
Branded agile TASKcards
Magnetic sticky notes with company logo, project logo or any kind of mark or text
Personalized agile team avatar icons
Customized avatar team icons. Various avatar designs are available. Team icons are a perfect tool for marking who is doing what on your board and to improve engagement within the agile team.
Other custom agile tools
Custom scrum or kanban magnets for agile teams according to client's wishes and requirements. All prints, sizes and colors are possible.
Custom lean board magnet tools
Map company processes with customized visual workflow chart. NEW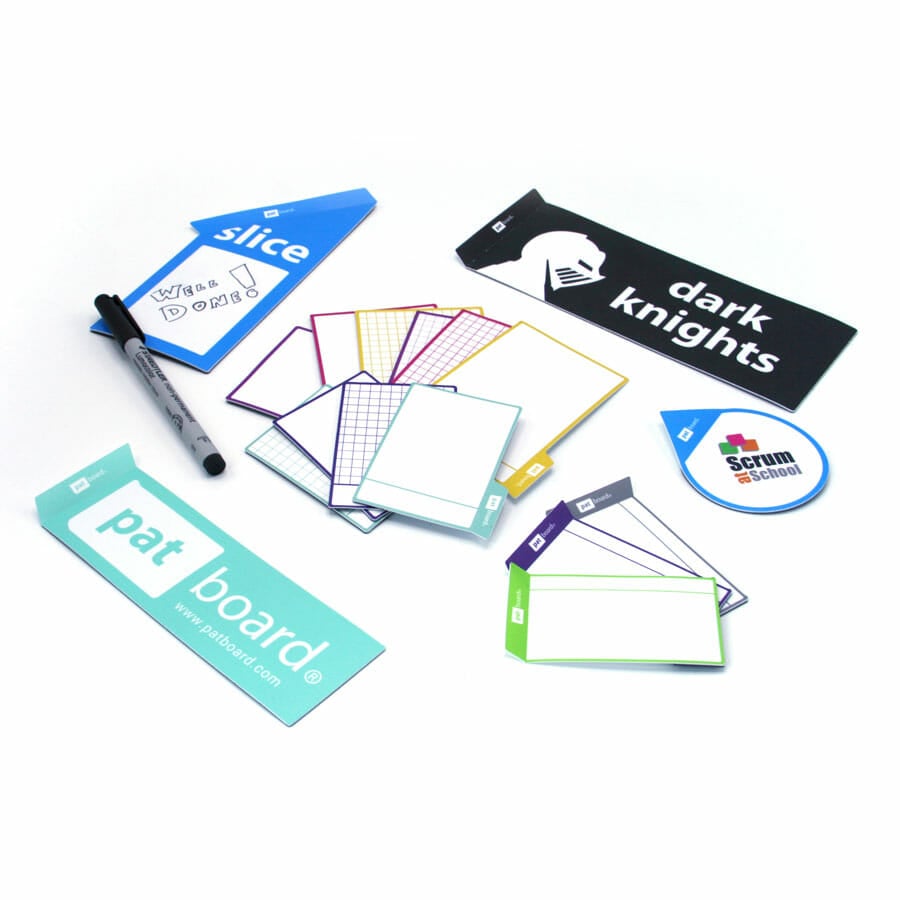 4-step process of a custom order
After receiving a request for custom order, our designer will contact the client within 2 working days to discuss the requirements.
2 iterations of design are included.
Once the final design is finalized and approved, the product is launched into production. It takes 2-4 weeks to manufacture the products.
Depending on the destination, shipping normally takes between 2-5 working days for EU deliveries (free shipping)
Minimum order quantity for customized solutions
To prepare the manufacturing process for a specific product a new setup and extra labour is needed. We usually need a minimum order quality for a specific magnet in order to stay profitable and continue offering our products at competitive prices.
Request a quote for custom magnets
Let's make work fun and engaging!
Warm greetings from the team of agile enthusiasts